Do you like the idea of publishing a bestselling book?
Who doesn't?
I've actually published many books that have sold quite a few copies, reaching number one in their category on Amazon.
In fact, when we recently published The 2019 Poetry Marathon Anthology, it immediately became the number one new release in its category: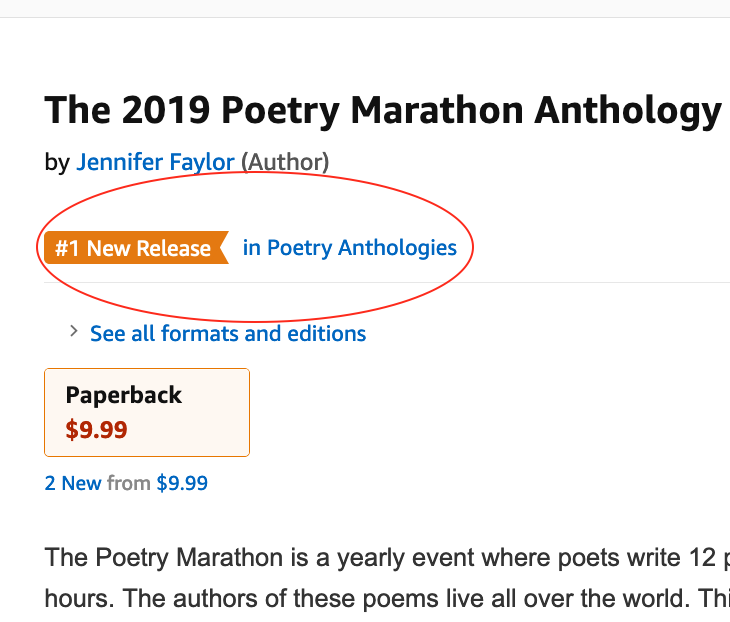 If you want an instant bestseller, this is what you have to do…
So many authors get close to publishing their books, and then ask themselves: How am I going to promote it.
Here's the thing: the best time to work on promoting your book is right now, even if you haven't written a single word.
How were we able to sell the Poetry Marathon anthology so quickly?
Because we had an audience waiting to buy the book.
If you want to build such an audience, then the best thing to do is to build your email list.
But – don't just build an email list!
I see people make this huge mistake way too often.They get people's email address, and then barely ever send an email!
If you want the people on your email list to buy your book, then the you absolutely have to start cultivating your relationship with them.
That means being strategic. Communicating on a regular schedule. Learning about the people in your email list. And, most importantly…
Making them happy!
You want the people in your email list to expect regular-recurring emails from you and to look forward to getting those emails.
Even a Pre-Schooler Can Understand This Math
Every night when my wife (or I) puts our four year old to bed, we have to negotiate the number of books we read.
"I want two books. No, three books. Four! Give me four books!" Our daughter delightfully says.
Notice how she's using math – adding book after book to her request.
This is the type of math that I absolutely love: Extremely simple math that has extremely real-world consequences.
It's not that different than building an email list.
Every single individual you add to your email list is extremely important. However, the beauty of an email list is that you can keep adding to it, and your parents won't complain! (I hope!!!)
Here's the beauty of email: It's just as easy to email ten people as it is to email one hundred thousand. (I know, because I send around a million emails per week!)
You can just keep asking people to join your email list
And they can just keep saying yes.
And you can keep cultivating your relationship with them.
And the number of people looking forward to getting your emails can keep growing and growing.
How to Get People to Say "Yes" to You
Let me demonstrate by example:
Do you want to build a huge email list of people who want to buy your next book?

Then get a free copy of my audience-building book right now.

The book distills my fifteen years of experience building massive audiences for my writing.

Just click this link – and I'll send you a free copy. No strings attached.
What am I doing here? Well – I'm offering something I hope you want: A path to building a large email list.
If you don't want an email list of people who are eagerly waiting to buy your next book, then don't get a free copy of my book!
However – for those of you who want this, I am extremely happy for you to join my audience.
I love writing about audience building – and I am extremely excited by the possibility of helping my fellow authors succeed.
Here's the thing: If you want people to join your email list, then offer something valuable in return. I go into a lot of detail about how to do this right in the book.
I know some of you have already read the book. Whether you've read it or not: Feel free to post a question in the comments below. I'll be happy to answer.
But first – get a free copy of my book!